Need a textile jewelry fix or just a bit of color inspiration? Well look no further than LoveandDream who makes awesome statement pieces full of color and felted fabric, among other things.…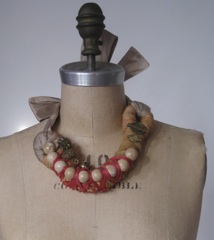 I have to admit, I am picky about beading.  I mean that I am very picky about my own beading skills, which never seem quite polished enough.  So you can imagine how blown away I was to find the work …
Anthropologie jewelry has been a huge source of inspiration for crafter/bloggers out there, and this season's jewelry will not let you down.
I am inspired by this double torsade necklace made of fresh, cool colored acrylic beads.  I would love …
Here is some inspiration for you. This piece is wonderful with lots of unexpected textures and materials in unusual combinations. The pearls really just finish off this piece perfectly.
Happy 4th of July!…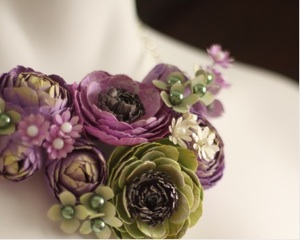 Wow!  This floral bib necklace by Blush Envy is amazing.  It is composed of hundreds of hand cut and glued paper petals and is even sealed for strength and durability.
This would make an amazing wedding necklace.  Check out the …
Reader Addition Style submitted this photo to the Craft Gossip Crafty Review Pool on flickr.
This is a great use of unusual materials to make jewelry which has a clean …
This week I have posted a lot of inspirational jewelry to get you jazzed up about making jewelry this summer.
Here is another upcycled project. This piece by Bucyrus Metalsmith is made with face …
This necklace is made by Derya Aksoy and can be found on her Esty shop. You can read more about it at her blog Dream Daily Doddle.
I have chosen this …
Here is a lovely floral piece by Verdevescica who has a number of really interesting and varied jewels on flickr, so check them out.…
If you are at the office this week yearning to make something creative, check out this bracelet by 2 Roses Jewelry.
I cracked me up and is a great use of …
Here is a bit of fun Friday inspiration from James Thurman. If you love shoes and love jewelry, then this is the necklace for you! Made from high heels, pearls and silver, this necklace …
Here is a bit of colorful inspiration for you. Floral brooches have been making a big come back lately, but these have a fresh style of their own.…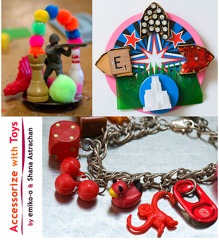 If you are around SF, be sure to check out the Maker Faire – May 22nd and 23rd.  If you love toys, and of course you love jewelry or you wouldn't be reading this, be sure to stop by and …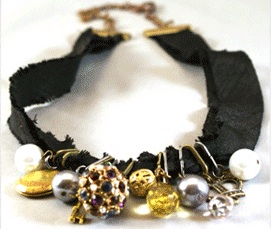 The April Winners of the Customer Showcase at Ornamentea have been chosen.  It is a very diverse group of styles.
The one pictured here is by Kathleen Ashton of Love You More Designs and is made of charms, beads and …
This necklace posted by Fibreromance on Flickr is really striking. The bold geometric shapes are actually crocheted. I love the monochromatic look of the shapes too.…
« go back
—
keep looking »