This Bangle titled "Garden Bangle" tutorial is by Connie Fox and is featured over at Polymerclaycentral.com
The instructions are clear and precise making them suitable for beginners to intermediate levels.…
Madeit.com.au (Like Etsy only Australian)  has just featured this wonderful artist on their website.
Little Viking Girl sells simplistic designed pendants, rings even children's wear. Items range from a very affordable $16 -$34.
Check out the interview as well as her …
Who knew that a length of guitar string and some polymer clay could be such a beautiful combination.
This necklace reminds me of peacock feathers and pops with turquoise. It is by Verdevescica who can …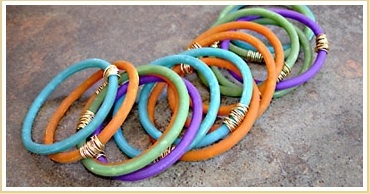 You can find the tutorial for making these fun extruded polymer clay bracelets here.
It is an east project and in these colors the outcome is really fun and perfect for wearing a large stack this summer.…
Bounty_gg submitted this work to the CraftGossip Flick pool.
I love the fluid nature for the design and the rich and deep color palate.  I would love to know more about the technique …
For a bit of Wednesday inspiration, check out Rebecca Geoffrey's work on both Flickr and Etsy.
She recently uploaded pictures of her fun work to the CraftGossip Flickr pool. …
If you are looking for some tutorials on different jewelry making techniques, etc…. check out Gelt Designs Tutorial Page.
They have an entire page full of great jewelrymaking tips lfrom making interesting findings like the Clover leaf Toggle to …

 Art Jewelers Susan Lenart Kazmer and her business partner Linda Larsen ; owners of Objects and Elements webstore,  have been busy the last few months.  They've been updating the store with all kinds of unique goodies you won't find …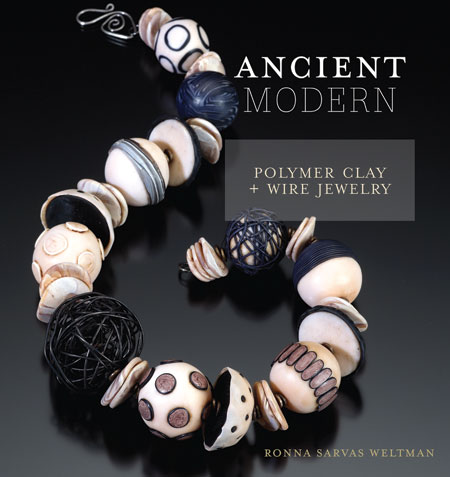 Ancient Modern: Polymer Clay + Wire Jewelry  by Ronna Sarvas Weltman
Paperback: 136 pages
Publisher: Interweave Press (June 1, 2009)
Language: English
ISBN-10: 1596680970
ISBN-13: 978-1596680975
I was blown away when I saw the cover of this book and HAD …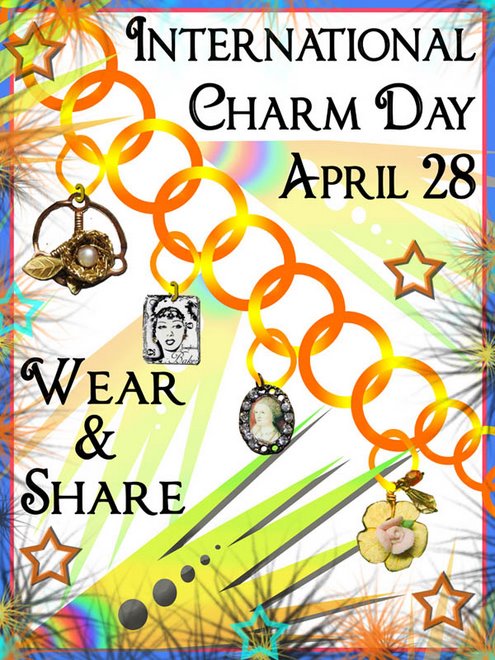 Today is International Charm Day!
Started by charming Amber Dawn, International Charm day is a day to make, wear,enjoy, share, buy and giveaway charms. Check out the International Charm Day blog for a TON of charm inspiration,tutorials,  links to …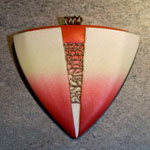 Only 21 days left to register for PolymerClay Collaborative & Mixed Media Retreat in beautiful Shepardstown, WV!
Since polymer clay is such a versatile material, this retreat is great for bead & jewelry artists, fiber artists, bookmakers, collage artists and a …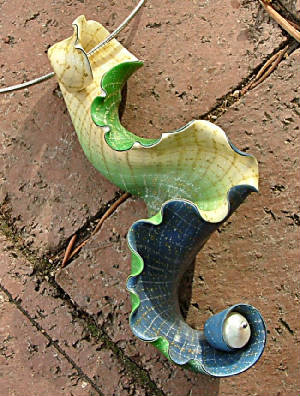 Today we meet Jana Roberts of JRB Art & Design. She is an EXTRAORDINARY polymer clay artist. She creates these AMAZINGLY organic pieces that look like wild sea creatures. (pictured above). So lifelike, you want to gently hold one …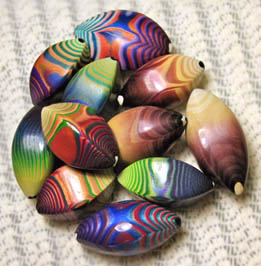 These are some GORGEOUS beads!!! Desiree of Desiree's Desired Creations calls these her "Casablanca Beads". She has a wonderful and easy to follow tutorial up on on how to make them. I want to break out my clay and make …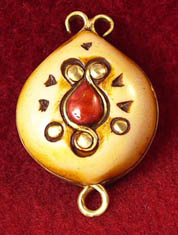 I love this brass framed polymer clay pendant tutorial by Desiree's Desired Creations. As it is, it looks sort of steampunk as it is and I think it be used to make alot of different style of pendants.…
« go back
—
keep looking »