If you are looking for some interesting elements for your jewelry, check out RJBeads on Etsy.  They have an excellent selection of fun and funky beads and the prices are pretty reasonable too.…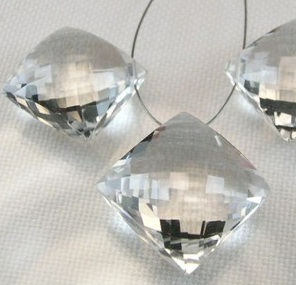 More and more Etsy is becoming a go to place for beading supplies.  Here is another funky find, these micro-faceted diamond shaped briolettes are available from Sky Valley Gems - and could make for some sparkly chunky jewels.…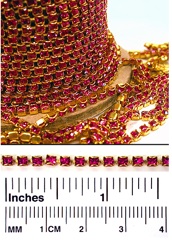 Ornamenta is now carrying this awesome Swarovski crystal chain, by the foot, in crystal, fuchsia and olivine colors.
I can think of a ton of projects off the top of my head that might be fun to use this chain …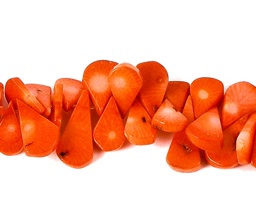 These vibrantly colored top drilled coral tear drop beads are massively discounted at South Sun Beads.  Normally $29, a 16 inch strand is selling for only $3.60, of the moment.  But you have to jump quickly as this deal …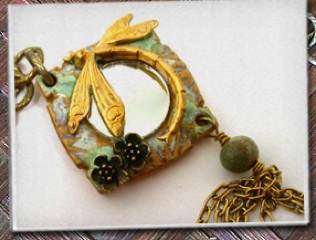 The latest tutorial is now out from Ornamentea.  This one is a lovely coiled dragonfly necklace, which was designed by Janet Hoffman at an Ornamentea staff challenge.
The whole feel of this piece is great, with multiple layers and lots …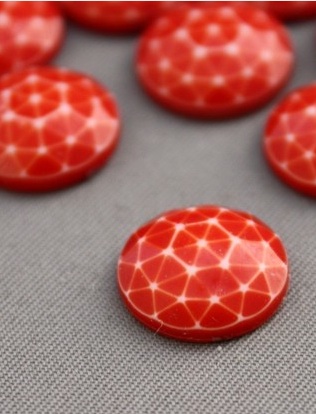 Looking for interesting lucite or vintage elements and beads for your latest project?  Well look no further, ReductionNation over at Etsy has lots of awesome finds!  These lucite cabs are pretty cool.…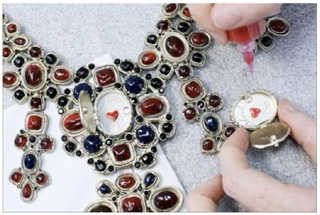 Here is an interesting post from If It's Hip, It's Here on how Chanel make the Venetian bib necklace from their new collection.
For you crafters out there, I can imagine a similar look being created with pre-made bezels …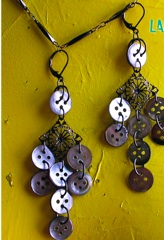 The latest tutorial is up on the Ornamentea site.  This time it is for these "Lace and Button" earrings. The mother of pearl vintage buttons and gunmetal finish findings are an excellent combination.
You can try this with your own …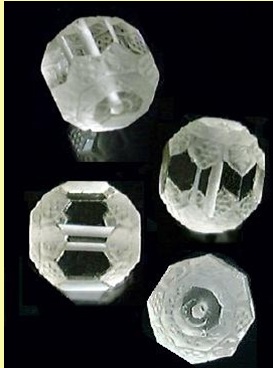 Splendor in the Glass recently sent us a link to their site.  They have a wide selection of beads etc. including these vintage Lalique inspired carved beads.
If you are looking for something unusual have a wander through their site.…
Ornamentea have new ceramic beads by Elaine Ray and have posted them with cool earring ideas.  I love these dangling earrings and variety of colors and possiblities  that they show.  It is also great that below the image on their …
The craft project of the day on Martha Stewart are these lovely jade and ribbon necklaces.   They are super easy to make and a nice way to make a full length necklace with only one strand of beads, …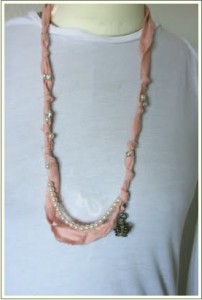 Alexis over at My Mama Made It has done it again.  This time she has made some Anthropologie inspired pieces, which are very nice.
She also shares with her readers her recent bargin finds in other stores and how …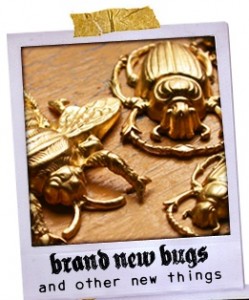 Ornamentea has new bugs and more now available here.
There are many great choices for this creepy time of year.  I love the raw brass scarabs and can think of tons of projects to make with them.
There are …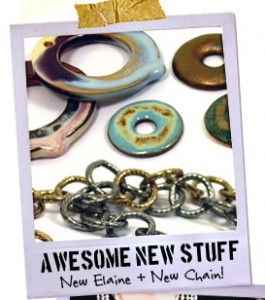 Ornamentea is selling new enameled washer pendants by Elaine Ray and funky new chains.
I love these pendants, they are so simple and striking that they hardly need anything else, besides something to hang them from, of course.
The chains …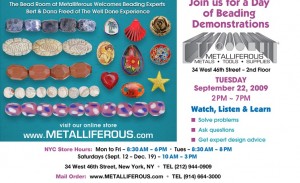 If you haven't already been to Metalliferous in NYC, it is a must visit for jewelry makers.
The store is a treasure trove of jewelry making supplies from tool to materials.  Located in the Diamond District, I always feel especially …
« go back
—
keep looking »