Jun
11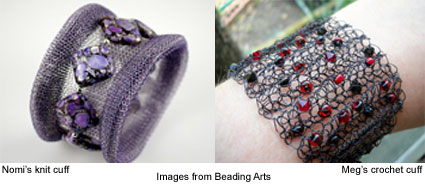 Cyndi at Beading Arts shares the crochet wire work of Meghan and knitted wire from Nomi Joyrich. Bringing two crafts together, Meg crochets wire and beads into jewelry while Nomi's cuff is knitted wire. You can see more of Meg's work in her Etsy shop, Meg's Crochet Jewels. Take a look at Nomi's website for her brick and mortar store, Bead Works, Inc.
I'll leave you with a teaser – don't miss tomorrow's post that ties into the idea of using crochet and beads to make beautiful accessories!
You may also like...
Comments