Jul
22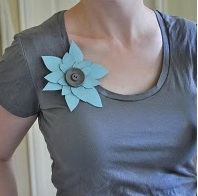 Cheri from I Am Momma – Hear Me Roar has created a fun look with this blue leather flower brooch made from left over pieces of leather from a previous project.
It is a versatile piece that can be worn on clothes in the hair, etc. This brooch has lovely clean modern petals and a funky button center.
By Katrina
You may also like...
Comments